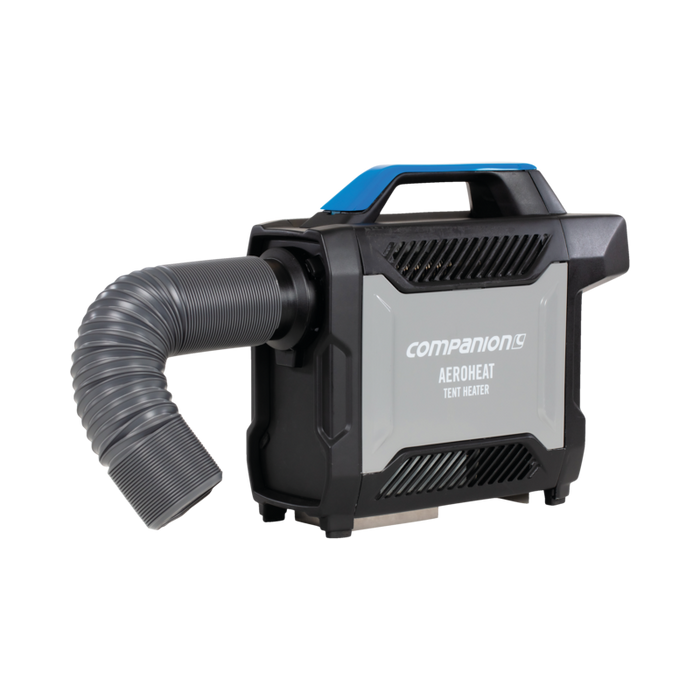 COMPANION Aeroheat™ Ducted Tent Heater LI
Save

32

%
Save

32

%
Original price
$569.99
-
Original price
$569.99
Ideal for warming your tent, camper trailer or walled gazebo, the AeroHeat will take the chill out of the air on those cold winter nights. Fitted with important safety features like an oxygen depletion sensor, over temperature sensor, tilt switch and outlet hose connection switch. Additionally it features Bluetooth operation to allow you to make adjustments without leaving the comfort of your bed.

Features:
Integrated rechargeable Lithium battery
Instant warm air
Multi-speed fan
Extensive safety features
Auto-ignition
Built-in gas regulator with BOM connection
Can run directly off cartridge or gas cylinder via hose (sold separately)
Digital display control panel
Bluetooth control via app
This heater will not operate in ambient temperatures above 15 Degrees.
Specifications:
Includes 12V DC charge lead, 800mm air outlet hose, quick release air outlet hose fitting
Dimensions 442L x 164W x 360H
Weight 7kg
Propane/ULPG
Battery run time up to 240 mins
Safety Features:
Over temperature sensor: The appliance will not allow the burner to remain in operation once the outlet air temperature reaches 60°C +/-2°C.
Outlet Hose Adaptor Microswitch: The outlet hose adaptor & hose must be attached to the heater correctly to activate the safety microswitch.
Tilt switch: In the event that the appliance is moved during operation or is being operated on an unstable or non-solid surface the appliance will shut down and must be switched off until a suitable surface is located.
02 Sensor info: The Oxygen depletion sensor is fitted to prevent the use of the product in an indoor environment - the sensor will turn the unit off if it senses a low oxygen level.

FAQ:

Why is my AeroHeat showing an E3 error the first time I've switched it on?
The E3 error indicates an issue with your AeroHeat's gas supply. It means there is no gas left in the canister, or that there is a blockage somewhere along the gas line. 
 
When your AeroHeat is stored like it is brand new in its box, air enters the unit and fills the gas line. The first time you hook up your AeroHeat to a gas supply, the air inside the unit blocks the gas until it is flushed out by the incoming gas supply.
 
To rectify this error, check that your canister or hose and cylinder are full and refit the cartridge or hose. Then turn on your AreoHeat and use as as per normal. If the E3 error returns, this means there is still air in the gas line and you will need to repeat the previous steps. This should only take a couple of attempts until all of the air is purged from the gas line.