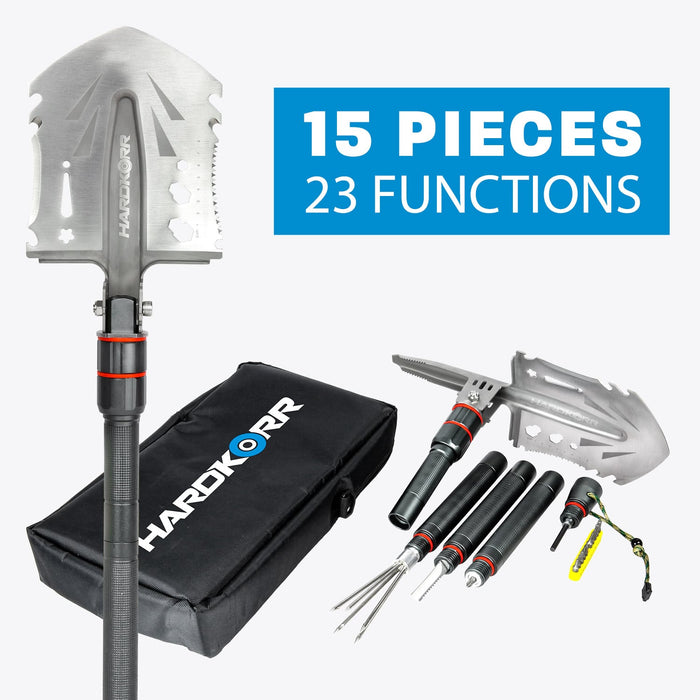 HARDKORR 15 Piece Multi-Tool Shovel
Save

20

%
Save

20

%
Original price
$99.00
-
Original price
$99.00
This stainless steel multi-tool shovel is the perfect piece of equipment for any camping trip or 4wd adventure.
The capabilities are endless, with 15 different attachments and at least 23 possible applications. This shovel is the Swiss army knife of camping tools, with the ability to dig (obviously), cut, saw, loosen and tighten screws and bolts, and many more – there's even a fishing spear attachment!
The head measures 170mm x 210mm and the total length is 105cm, but its modular construction means it can be packed down into a bag measuring just 430mm x 230mm and weighing just 2kg in total.
NOTE: THIS IS NOT A WEAPON AND SHOULD NEVER BE USED AS SUCH


15 PIECES IN ONE HANDY PACKAGE:
Shovel / pick head
Serrated knife attachment
Fishing spear attachment
Tool bit holder attachment
11 x tool bits
BONUS flint fire starter included in handle
23+ DIFFERENT APPLICATIONS
Versatile just doesn't even begin to describe this thing. You can dig holes, you can shovel dirt or snow, you can chop branches, you can cut vegetables, you can saw wood, you can catch fish, you can undo bolts, you can tighten bolts, you can open bottles, you can start a fire, you can undo screws, you can tighten screws, you can hammer nails, you can remove nails, you can measure things, you can cut rope, you can cut wire, you can scale fish, you can break glass, you can break up ice or hard ground, you can turn it into a hoe to remove plants or weeds that are in your way, you can dig out bogged vehicles, and you can use it as a hiking pole. There's probably more uses, but we'll leave that up to your imagination!
THE HARDKORR GUARANTEE
All Hardkorr products are manufactured using the highest quality materials. We are confident that they are the most durable in the market and will give you many years of reliable service. We stand behind this product with a comprehensive 3 year Australian warranty and a 30-day money back guarantee.