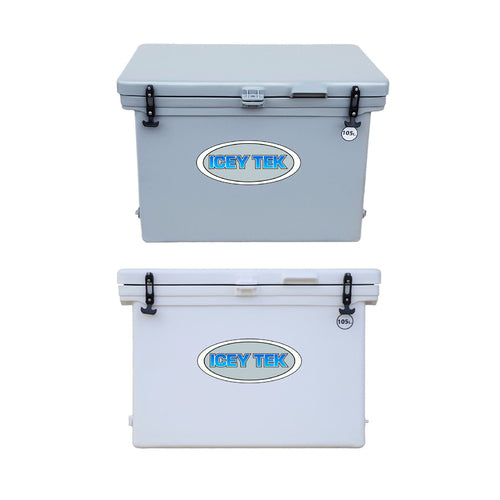 ICEY TEK 105L Standard Ice Box Cooler
Original price
$495.00
-
Original price
$495.00
The 105 L is starting to get into the size for more specialist applications and serious campers and fishermen. This box most likely will not fit in the boot of a car although it is fine in a station wagon or you. Also great to put in the boat for a decent amount of storage. A good size the multi-day camping trips or even for parties and functions that are catering for a large group of people to hold their drinks.
Each 105L cooler is fitted with 3 Heavy Duty Injection Moulded Hinges, which stop just past 90 degrees. These are strong and prevent having rope inside the box to stop the lids from flipping back.
The wall thickness ranges from 80mm thick in the lid where it needs the most insulation. To 40mm to 45mm thick in the base and sides. This gives our coolers great thermal insulation without being overly heavy.
External Dimensions
Length - 800mm
Height - 565mm
Width - 525mm
Internal Dimensions
Length - 640mm
Height - 430mm
Width - 400mm
Weight - 15kg
Lid height when open - 1060 mm
Lid Lip - 38mm