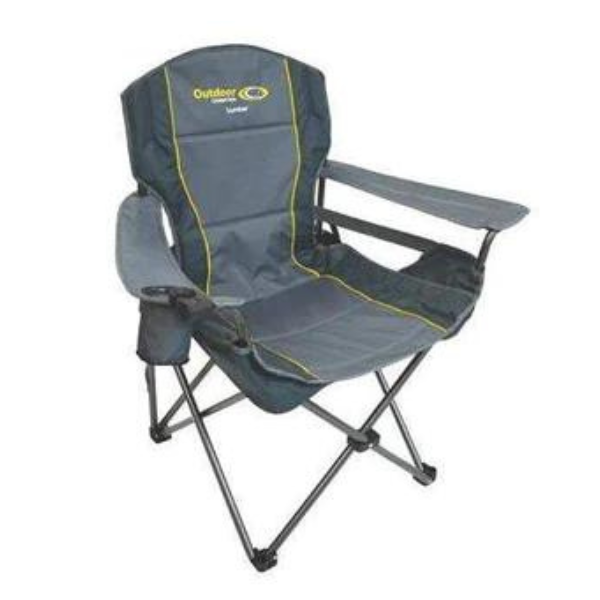 OUTDOOR CONNECTION Lumbar Quad Fold Chair - Grey
Original price
$99.95
-
Original price
$99.95
Outdoor Connection Lumbar Chair with our Adjustable Padded Lumbar Support is designed to take the pressure off your back while you are trying to relax in a chair.
Outdoor Connection designed Adjustable Padded Lumbar Support ensures your comfort – essential support for those with 'dodgy' backs.  (We have experience in this that drove us to the design in the first place!! ) However, the Lumbar Support adds comfort for anyone sitting in a chair for more than a few short minutes.  With a double layer of 600D tough fabric that doesn't sag to near to the ground under your weight, fully padded seat, padded back and adjustable Padded  Lumbar Support, you have the most comfortable chair around. With a drink holder and wine glass holder, you can hang out in comfort for an extended time in this great chair.
Features:
Generous size for the average type of person
Quad folding for quick set-up and packing away and compact folded size.
Adjustable Padded Lumbar Support that attaches to an extra piece of a frame on the outside of the front of the seat – not to the arms.  It doesn't pull the arms down as you adjust the support
Steel frame (20mm diam) with powder coated durable Hammertone finish.
Cover of double layered 600D polyester fabric on both the seat and back
Fully Padded on both seat and back for maximum comfort
Wine Glass and drink holder in the right arm
Carry Bag 600D durable easy Draw String design
Static Weight Limit 130Kg
Chair Weight: 4.4 Kg with Carry Bag
Size:
Width: 80 cms
Height 94 cms
Depth: 57 cms
Seating Space:

Width of seat (rear): 60 cms
Width of Seat (front): 50 cms
Width of Back: 53 cms
Height of Back: 60 cms
Depth of Seat: 44 cms
Leg Height to Seat 43 cms
Height to Arm Rest: 68 cms
Frame:
Powder-coated steel frame with durable Hammertone finish.
Tube Diameter is 20mm.