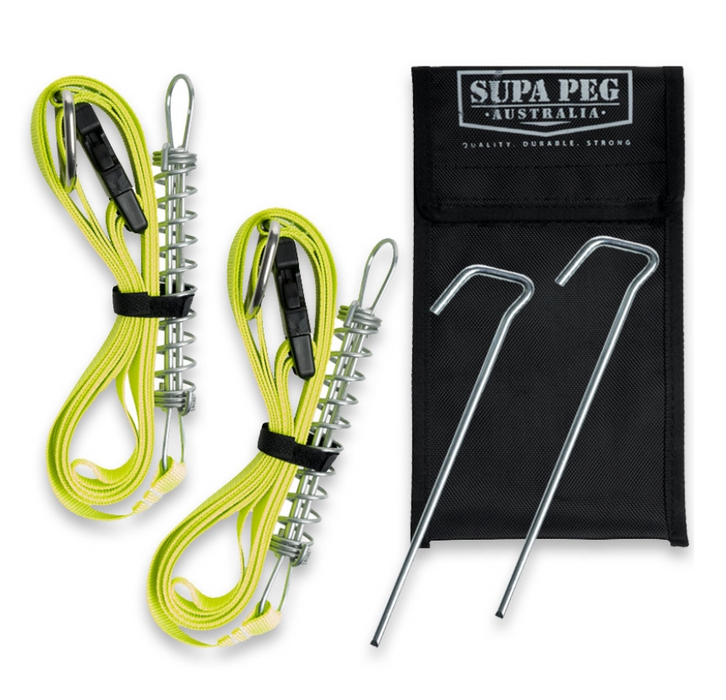 SUPA PEG Awning Storm Tie Down Straps Kit
Original price
$39.90
-
Original price
$39.90
Anchor Your Adventure with Supa Peg Awning Storm Tie Down Straps Kit 
Mother Nature can be a wild dance partner, especially when she sends a storm your way. With the Supa Peg Awning Storm Tie Down Straps Kit, you'll be ready to waltz through the winds without losing a beat!
This twin-pack of Awning Storm Tie Down Straps is your go-to support system when the weather gets feisty. The innovative trace springs add dynamic tension to awnings, shelters, and gazebos, so they stay firm and flexible.
Featuring:
Versatile 'D' Ring: Large, ergonomic, and ready to attach around an awning roller of any size.
Effortless Tensioning: Loop handles make for smooth and powerful tightening.
Quick Release Buckles: Pack up in a flash when it's time to move.
Hi-Visibility Yellow Webbing: No more tripping in the dark, this vibrant strap's got you covered.
Comprehensive Kit: Includes 2x tie down straps, 2x 225mm x 6mm galvanized pegs, and 1x handy storage bag.
Don't let the gusts get the best of you. With the Supa Peg Awning Storm Tie Down Straps Kit, your outdoor space will remain calm, even when the weather's not. The quick-release buckle allows you to say goodbye in a hurry, while the trace springs maintain consistent tension.
Stay grounded, stay secure, and dance through the storms. The Supa Peg Awning Storm Tie Down Straps are your reliable partner, whether you're setting up a campsite or embracing the open road.
Don't let your adventure be blown away; tie it down with Supa Peg. Order now, and be the calm in the storm!