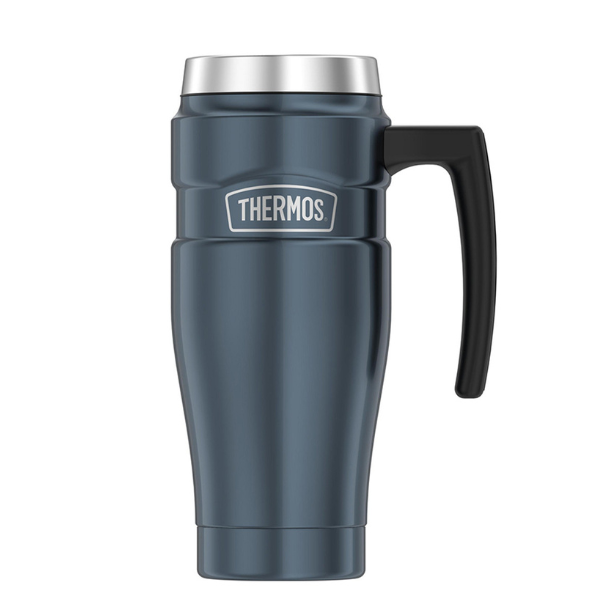 THERMOS Stainless King Insulated Travel Mug 470ml
Original price
$64.95
-
Original price
$64.95
Experience the epitome of convenience and style as you commute with the Thermos Stainless King Insulated Travel Mug. Crafted meticulously with the modern traveler in mind, this mug ensures your favourite beverages stay at the ideal temperature, whether piping hot or refreshingly cold.
Key Features:
Premium Material: Fashioned from robust stainless steel, this travel mug not only promises longevity but also a chic finish that complements your style.

Optimal Capacity: With a generous 470ml, enjoy just the right amount of your drink, be it a freshly brewed coffee or a chilled iced tea.

Unrivaled Temperature Maintenance: Thanks to the double-wall insulation, relish your hot drinks that remain steamy for up to 7 hours and cold beverages that stay icy for up to 18 hours.

Travel-Friendly Design: The mug's design ensures it fits seamlessly into most vehicle cup holders. The handle provides a comfortable grip, ensuring you can hold your drink with ease during those long drives.

Enhanced Functionality: No more worrying about exterior condensation with cold drinks or burning your hands with hot ones. This mug remains sweat-proof when cold and cool to the touch when hot.

Tea Lover's Delight: The built-in tea hook effortlessly holds tea bags or infusers, simplifying your tea brewing process even when you're on the move.

Maintenance: Cleaning is a breeze with its easy-to-clean design. However, to maintain its elegance and functionality, it's recommended to hand wash only.

Peace of Mind: Your investment is safeguarded with a 5 Year Manufacturer's Warranty, a testament to the product's outstanding quality.