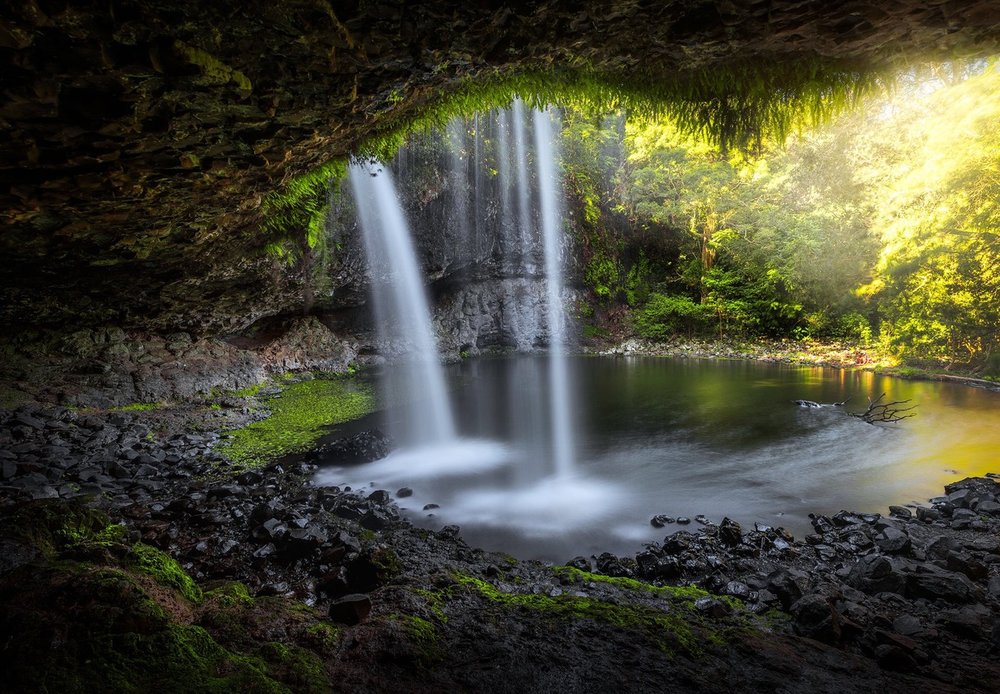 Embrace Nature's Pathways
Embark on an adventure of a lifetime, exploring the world on foot.
The Northern Rivers Region, often referred to as 'God's Country,' is blessed with breathtaking natural beauty, making it a paradise for hiking enthusiasts.
With a wide range of trails to choose from, catering to various preferences, you'll find yourself immersed in rainforests, mesmerized by waterfalls, captivated by serene beaches, and enchanted by bush trails, among other scenic wonders.
While I can only highlight a few of our favorite trails here, rest assured that there is an abundance of trails awaiting your discovery. You'll have to witness their splendor firsthand.
Before you embark on your next hiking adventure, be sure to visit Aussie Digger. We have all your hiking needs covered!
Minyon Falls, Whian Whian


Distance: 13km round trip
Suggested Time: 3 – 4 hours
What to Bring: Hat, sunscreen, drinking water, sturdy shoes, suitable clothing
Note:
Access within 100m of the top of Minyon Falls is restricted. This trail is located in a remote area, and weather conditions can be unpredictable.

Ensure you're well-prepared with appropriate clothing and equipment. Additionally, inform a family member or friend about your travel plans.
The Minyon Falls walking track offers a magnificent experience, traversing through Nightcap National Park. It takes you on a journey through diverse forests, pristine creeks, and culminates in a breathtaking waterfall. As you venture through the Nightcap escarpment in northern New South Wales, this trail will both challenge and delight avid bushwalkers.
Don't miss the awe-inspiring stand of ancient brushbox trees on the western side of Repentance Creek as you make your way through the dense rainforest. Take a moment to savor a tranquil picnic lunch amidst the fern-lined creeks.
You can choose to start this track from either of the picnic areas at Minyon Falls. The trail also connects to Boggy Creek walk, which leads north to Rummery Park campground in the neighboring Whian Whian State Conservation Area.
For a more peaceful experience, visit Minyon Grass picnic area. With its picnic tables and serene views of cascading falls and the surrounding forest, this hidden gem offers a quieter alternative to the popular picnic spot at Minyon Falls lookout.
Border Ranges National Park, Gradys Creek
Trail: Border Loop Walk
Distance: 1.5km loop
Suggested Time: 15 – 45 minutes
What to Bring: Drinking water, hat, sunscreen
Note:
You'll find picnic and barbecue facilities at Border Loop lookout and picnic area, where the walk commences.

If you're interested in birdwatching, remember to bring your binoculars. Parking fees may apply.

While exploring the Tweed Range Scenic Drive, take a break and visit the Border Loop area.
The Border Loop walk is a short circuit track that starts from Border Loop lookout and picnic area. It guides you through a canopy of World Heritage-listed rainforest, home to a population of koalas. Keep your eyes trained on the canopy, and you might catch a glimpse of this iconic Australian creature. Along the track, informational signs provide insights into the ancient rainforest plants that surround you.
When you reach the end of the track, take in the breathtaking views of Gradys Creek valley and the historic Border Loop railway line, which tunnels through the McPherson Range from Border Loop lookout. This spot is perfect for enjoying a barbecue or picnic lunch.
Trail: Pinnacle Walk & Lookout
Distance: 0.6km round trip
Suggested Time: 30 – 45 minutes
What to Bring: Drinking water, hat, sunscreen
Note:
The road to Pinnacle Walk and Lookout is a well-maintained gravel road, but after heavy rains between December 2021 and May 2022, the surface may become rough or slippery in parts. Parking fees may apply.
Undoubtedly, the journey along the Pinnacle walk to Pinnacle lookout is one of the park's highlights and not to be missed.
This short walk takes you through the World Heritage-listed rainforest before reaching Pinnacle lookout. The uninterrupted views of the entire park, including the coastline, the crater escarpment, and Wollumbin (Mount Warning), are mesmerising. For an inspiring start to your day in Border Ranges National Park, witness the silhouette of Wollumbin at sunrise.
Protesters Falls, The Channon
Distance: 1.4km return
Suggested Time: 1 – 1 hr 30 min
What to bring: Hat, drinking water, sunscreen
Note:
Temporary closures due to flash flooding may occur during or after heavy rain. If you're interested in birdwatching, bring your binoculars. 
Nestled in the rugged ranges of Nightcap National Park, the Protesters Falls walking track leads you through magnificent rainforest to a spectacular waterfall. This family-friendly and nature-lover's delight serves as a perfect stop on a scenic driving tour of the picturesque NSW North Coast hinterland near Lismore.
Named after the Terania Creek protests of the late 1970s, which successfully preserved this precious patch of pristine rainforest, the area is vital for various endangered frogs, including the Fleay's barred frog and pouched frog.
As you stroll along this easy track, you'll witness the transition from subtropical bangalow palms and native tamarind to towering rainforest giants such as yellow carabeen and strangler figs. Keep your ears open for the calls of the rose-crowned fruit dove and the barred cuckoo-shrike, and keep an eye out for the agile pademelon. Afterward, enjoy a leisurely lunch at Terania Creek picnic area.
Richmond Range National Park, Cambridge Plateau
Track: Culmaran Loop Trail  
Distance: 0.4m loop
Suggested Time: 15 – 30 minutes
What to bring: Drinking water, hat, sunscreen
Note:
Don't forget your binoculars if you're interested in birdwatching.

Check the weather before setting out, as the road to Culmaran Loop Trail can become boggy and slippery during rainfall.

Mobile reception is limited in this park.
Ideal for families and older individuals, this short and easy walk provides a glimpse into the rainforest environment along the forest's edge.
As you walk, you'll brush past the smooth, vibrant trunks of enormous Sydney blue gums. The track is lined with soft green bracken ferns, accompanied by the delicate white flowers of clematis and flowering wonga vines. The towering forest, with its hollow limbs, offers a resting place for various animals and birds. Don't forget to bring your binoculars to observe the wildlife.
Culmaran Loop Trail offers a fantastic introduction to the vegetation found in the drier parts of Richmond Range. It's a picturesque walk in the forest.
Cape Byron State Conservation Area, Byron Bay
Track: Cape Byron Walking Track
Distance: 3.7km loop
Suggested Time: 1 – 3 hours
What to bring: Drinking water, hat, sunscreen
Note:
Stay on the track and avoid cliff edges.

Parking can be limited on weekends.

Parking fees apply.
To fully experience the Cape Byron walking track, set aside a good two hours, although you might be tempted to repeat the journey as it is abundant in delights. It ranks among the best ways to spend a couple of hours along the state's entire coastline.
The 3.7km loop takes you on a mesmerizing hike through rainforests and across clifftops, treating you to stunning views of the ocean and hinterland.
During your walk, you'll traverse the shade of bangalow palms and ancient burrawangs, stroll through kangaroo grasslands, explore picturesque beaches, and finally reach Cape Byron Lighthouse. Keep your eyes peeled for turtles, dolphins, stingrays, and, during the season, migrating whales.
If you prefer a shorter walk, the track offers multiple entry points and can be enjoyed in smaller sections.
Broken Head Nature Reserve
Trail: Three Sisters Walking Track  
Distance: 1.6km return
Suggested Time: 30 – 45 minutes
What to bring: Sunscreen, hat, drinking water
Note:
Parking fees apply.

Bring your binoculars for whale and bird watching.
As you meander through the lush rainforest, you'll emerge at this spectacular setting overlooking Kings Beach. It's an idyllic spot to sit and contemplate the natural beauty surrounding you. The views are nothing short of incredible, with a coastal panorama showcasing secluded beaches, rocky coves, and dense rainforest.
In winter and spring, this spot becomes an excellent vantage point for spotting migrating whales. It's also a haven for birdwatchers, with white-bellied sea eagles swooping down for food. During this time, the headland comes alive with vibrant wildflowers.
Take a moment to discover the Aboriginal story behind Three Sisters, which tells the tale of three sisters transformed into rocky outcrops near the headland. Alternatively, you can stroll along the beach, dip your toes into the sparkling blue waters, and relax under the shade of a rainforest tree.
Killen Falls, Tintenbar
Distance: 0.66 kms
Suggested Time: 1 hour
What to bring: Hat, drinking water and sunscreen
Note:
Respect the area and take your rubbish home, as Killen Falls is part of one of the last standing remnants of the big scrub rainforest. The Killen Falls viewing platform is a 660-meter return walk. The base of the falls is a 1km return walk from the car park area. The track is classified as a grade 3 bushwalk, and previous bushwalking experience is recommended due to steep sections. Allow approximately 1 hour for your visit, including time for picnicking.
Surrounded by lush foliage cascading over damp rock walls, Killen Falls creates an atmosphere of a hidden paradise, accompanied by the soothing sound of the crashing waterfall.
Killen Falls is home to one of the last remaining sections of the big scrub rainforest, a significant natural feature of the Northern Rivers region. To honor and preserve this area, it is crucial to respect and take care of the environment by carrying out any waste you generate.
Located on Killen Falls Drive, Tintenbar, New South Wales, approximately a 20-minute drive from Ballina, off Friday Hut Road.
Share Your Thoughts! If you know of any remarkable trails that deserve a mention, please get in touch or leave your comments below. We would love to hear from you.