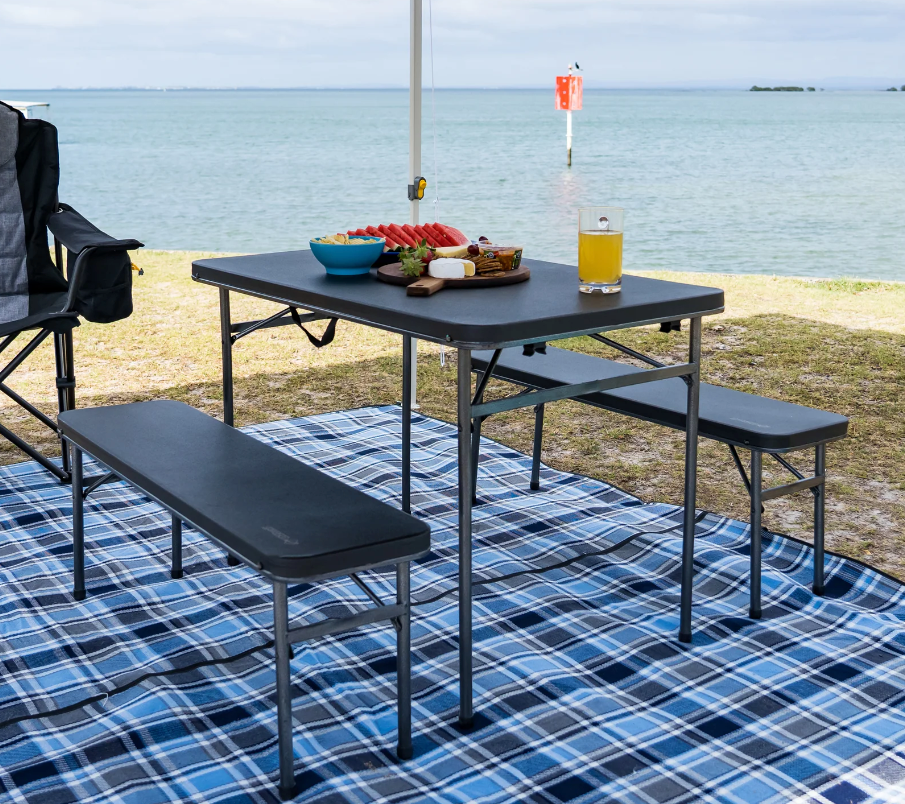 Camping Checklist: For an Unforgettable Adventure
Planning a camping trip? Make sure you have the essential gear for a comfortable and enjoyable experience. Here's a comprehensive list of must-have products and why they're essential for your camping adventure. Plus, by purchasing these products through Aussie Digger Camping & Workwear, you can save a whopping $1255 and get the best value for your money.
1. OZTRAIL FAST FRAME 10 PERSON TENT:

Enjoy quick and easy setup with the OZTRAIL Fast Frame 10 Person Tent. This spacious cabin-style tent is perfect for families and large groups. The Fast Frame system allows for a hassle-free setup in minutes, while the triple hub frame design provides enhanced internal space and increased strength. With a 1500mm waterhead rated polyester fly, heavy-duty PE floor, and No-See-Um Mesh panels for insect protection, this tent ensures a comfortable and protected camping experience.
2. OZTRAIL ANYWHERE BED QUEEN:

Ensure a good night's sleep with the OZTRAIL Anywhere Bed Queen. This lightweight and portable bed folds out to a queen size, complete with a built-in air mattress. The compact high-tensile steel frame expands into a comfortable sleep surface, and the durable heavy-duty PVC air mattress provides a cozy resting place. Perfect for tall campers, the bed offers generous length for added comfort. The convenient wheeled carry bag makes transportation and storage a breeze.
3. OZTRAIL SUN LOUNGE BRAMPTON CHAIR:
Relax in style with the OZTRAIL Sun Lounge Brampton Chair. This traditional lounge chair features a strong 19mm steel tube frame and a comfortable 600D polyester fabric. The ergonomic armrests, ultra-comfortable padded seat and backrest, and fully adjustable headrest height ensure maximum comfort while enjoying the outdoors. The chair also includes a handy side table with a drink holder, allowing you to keep your refreshments within reach. The chair comes with a carry cover for easy transportation and storage.
4. OZTRAIL IRONSIDE PICNIC TABLE SET: 
Create a comfortable dining area with the OZTRAIL Ironside Picnic Table Set 3PC. This three-piece fixed height table set is ideal for picnics or family camping trips. The table and benches feature a corrosion-resistant steel frame for exceptional durability. The thick top easily wipes clean, and the clip-to-frame attachments hold the benches to the table during transport. The table set also includes a carry handle for convenience.
5. COMPANION DELUXE 3 BURNER STOVE: 
Cook up delicious meals with the COMPANION Deluxe 3 Burner Stove. This stove offers a large cooking area with 2 x 8,600 + 1 x 6,400 BTU burners. The chrome-plated drip tray and trivet ensure easy cleaning and durability. The stove features a piezo ignition for easy lighting, built-in windshields for efficient cooking even in windy conditions, and strong fold-over legs for stability. It includes a 1200mm gas hose assembly for direct connection to 3/8" BSP LH gas cylinders.
6. COMPANION AQUAHEAT LITHIUM GAS SHOWER:
Stay refreshed with the COMPANION Aquaheat Lithium Gas Shower. This 12V camp shower offers easy operation and adjustable water flow. With three different settings, you can choose the water temperature that suits you best. The shower features flow shut-off at the shower head, allowing you to conserve water when needed. The inline switch ensures convenient control, making it a great addition to your camping setup.
7. OZTRAIL ENSUITE SINGLE TENT:
Enjoy privacy and convenience with the OZTRAIL Ensuite Single Tent. This strong cross-pole frame tent is the luxury choice for ensuites, fully equipped with all the features you need. The powder-coated steel frame provides strength and near-vertical side walls, ensuring stability and improved water shedding. The inner walls are silver-coated for total privacy, and the longer-lasting UVtex Sun Tough fly fabric with water repellent treatment offers protection from the elements. The tent includes an easy-step D door, excellent cross-flow ventilation, and convenient storage pockets.
Stay protected from the elements with the OZTRAIL Deluxe 4.5 Gazebo. This large gazebo offers 450 x 300cm ground and canopy coverage, providing ample shade and cover. The fire retardant 300 Denier UVtex treated polyester canopy with an internal silver coating blocks more than 98% of UV radiation, ensuring your comfort and safety. Certified by Australian Engineers to the Building Code of Australia, this gazebo is designed for sufficiency and durability. The high-quality powder-coated steel folding frame, along with the triple-layer 600 Denier polyester reinforcing points, ensures strength and longevity.
9. HARDKORR LIFESTYLE 4-BAR ORANGE & WHITE LED LIGHT KIT: 
Illuminate your campsite with the HARDKORR Lifestyle 4-Bar Orange & White LED Camp Light Kit. This versatile light kit is perfect for occasional campers and budget travelers. It offers outstanding value for money and features two bars with famous orange/white light technology. The LED camp lights provide excellent illumination for your campsite, creating a warm and inviting atmosphere.
10. HARDKORR U-LITE DUAL COLOUR LED LANTERN:
Light up your camping area with the HARDKORR U-Lite Dual Colour LED Lantern. This powerful lantern offers a 155 lumen output from a lightweight package. It features an inbuilt lithium battery, providing convenience and long-lasting use. With the option of bug-reducing orange light, a magnetic back for easy mounting, and a durable elastic strap for versatile use, this lantern is perfect for various camping scenarios.
11. CAMPFIRE 12PC ENAMEL DINNER SET:
Dine in style with the CAMPFIRE 12PC Enamel Dinner Set. The thick gauged steel construction and high-gloss enamel coated finish give this dinner set durability and a classic look. The set includes four 26cm plates, four 16cm bowls, and four 9cm mugs, allowing you to enjoy outdoor meals with ease.
12. OUTDOOR CONNECTION WHISTLING KETTLE STAINLESS STEEL: 
Start your day right with the OUTDOOR CONNECTION Whistling Kettle Stainless Steel. This stylish stainless steel kettle adds a touch of elegance to your campsite. The triple-layered base ensures optimum thermal efficiency, allowing you to boil water efficiently for your morning coffee or tea.

Conclusion: Ensure a memorable camping experience by equipping yourself with these essential products. From a spacious tent and comfortable bedding to convenient cooking and lighting solutions, as well as stylish dining ware, these items are designed to enhance your camping adventure. And the best part? By purchasing these products through Aussie Digger Camping & Workwear, you can save an incredible $1255, making it the ultimate value for your money. Click on the provided links to purchase these must-have items and make the most out of your outdoor excursion. Don't miss out on the opportunity to save big and have an unforgettable camping trip with Aussie Digger Camping & Workwear.